First Tribute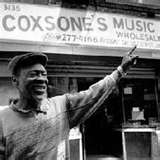 It is not often that greatness touches ones life. On the evening of May 4th, the world shed many musical tears on the passing of Sir Clement "Coxsone" Dodd. Words are not enough to express the appreciation for this musical pioneer. Ask anyone about a Studio One selection and they will have something to play or say.
Thirteen Brentford Road, now Studio One Blvd., is the location for the studio that was the architect for the foundation of an extremely large percentage of what is now Jamaicaís music. Whether it was early R and B flavored music, Ska, Instrumental or Dub, you had to deal with Coxsone. If you were Alton Ellis, The Wailers, The Skatalites, Dennis Brown, The Maytals to name a very few, you were homed by Mr. Dodd.
It is often easy to pay tribute after one has passed, maybe the words flow easier. Whatever the case, Mr. Dodd, maybe without realizing it, was getting his tribute while he could still hear it. No dance would be complete without a Studio One selection. A song like "Iím Still In Love" now an international hit, for Sean Paul and Sasha, was a Studio One hit in the sixties, for Alton Ellis and the seventies, for Marcia Aikens and Dillenger.
Many careers would be a wash if a Studio One rhythm was not carrying the tune. The fact this is happening is a tribute in itself. It shows that something good is there to sample and remix and in turn, introduce a whole new generation of music listeners to the genius of the Studio One stable.
Thank you Mr. Clement Dodd for your creation. Thank you for your pioneering spirit. Many artists call themselves foundation artists. I cannot equate you with foundation. You are the architect. You conceived the idea, put it into action and in turn, created the venue for artists to call themselves foundation.
If I had to pick one Studio One song to express what it must have been like for you, I would choose, "Swell Headed," by Burning Spear. Some of the lyrics go like this. "Itís a lucky thing a never did get swell headed. You would a have me run, run, run. I will never run away. Stay on them that fight against I."
Thank you for not running away and definitely not getting a swell head. Your musical contribution is embossed into our musical consciousness. Even though you are not physically here, you continue to live in every instruments, vocals and arrangements that came out of your studio.
Mi deh yah now!
Reggaedis