Michael Jackson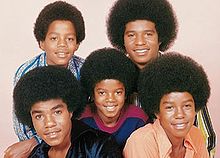 Michael Jackson, the Gary Indiana native and proclaimed King of Pop, died on Thursday, June 25th at the age of 50 of an apparent heart attack in his Los Angeles home. Michael came to fame as part of the Jackson 5, a group consisting of his brothers Marlon, Tito, Jermaine, and Jackie. They recorded songs such as ABC, I'll Be There, and I Want You Back.
Following his early days with his brothers, Michael embarked on a solo career that spawn numerous hit songs like Billie Jean, Black or White, Beat It, Human Nature, You Are Not Alone, and Heal The World, the song that brought the elite in the music industry together to help close the gap on suffering in the world.

Somehow the mature Michael seemed to be crying out for an opportunity to regain his childhood. He created Never Land and became almost childish in his mannerism and voice
The man in the mirror underwent a physical transformation, replacing the Afro with hats and straight hair. He did the moonwalk, wore his sequined glove, white socks and different colored jackets and asked the question, "Who's Bad?" Who could forget his plaintive voice as he made you love a rodent as he sang about his friend, Ben. She's Out of My Life brought home the after effects of a broken relationship.
We shared in his joy, cried in his sorrow and even mocked his absurdities, but underneath it all we respected the talent and his humanitarian efforts.
Jackson's music and persona reached beyond the United States and found its home in the heart and soul of fans in every part of the world, every age group and color. This iconic world performer was a trailblazer, selling millions of records especially with the album Thriller, which was bolstered by the video that was the forerunner for cinematic productions of music videos. He had sold out shows where ever he performed, with thousands of fans inside and outside hoping to get close to the gloved one.
Michael is survived by his three children, parents, brothers and sisters and fans and critics who will remember his legacy through his extensive musical catalog. He will be missed by those who knew him publicly or privately or those who only knew him through his music.
Condolence goes out to Michael Jackson's family. May he find the rest and innocence he longed for.
Mi deh yah now!
Reggaedis